How structured metadata helps: an example
The example below shows a dataset of some variables which we might guess as being related to apples and oranges, but without additional metadata like measurement units we are not sure what exactly the variables relate to and how we can interpret and compare the data.
We might assume that we can compare all apples together, and that we don't want to compare apples with oranges.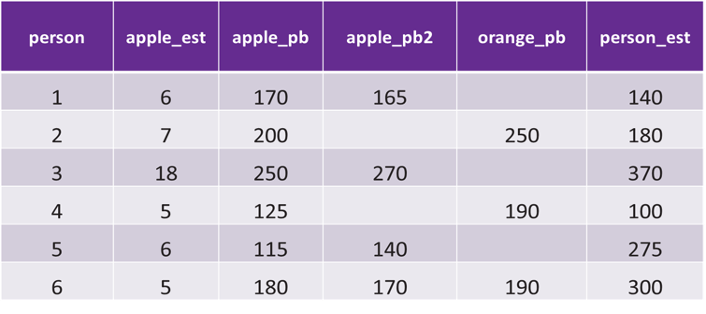 We can use the accompanying documentation to gather some more information. This tells us the data came from a student exercise and using this we now know the units of each variable and how the measurements were made.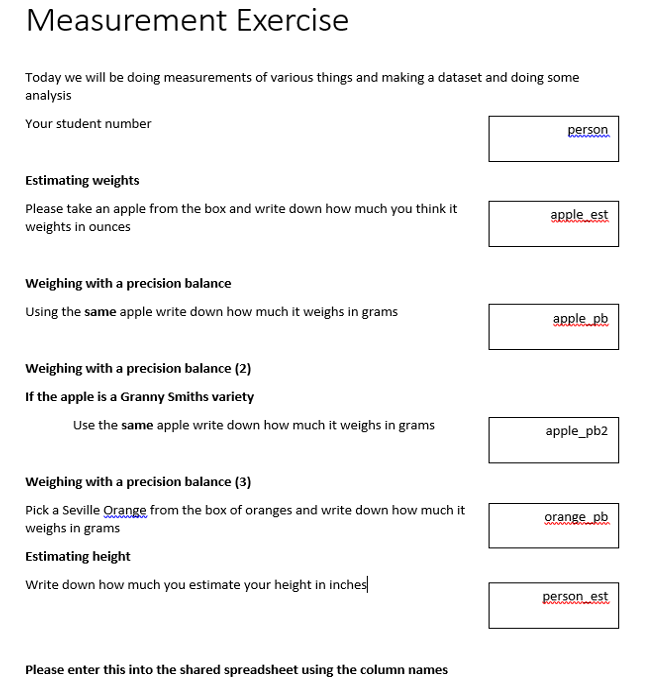 This might be all the information we need and we can use it as it is, in a document form to determine what variables are useful to compare.
However, we could add some structure to this metadata to allow us to systematically assess the variables for similarities and differences.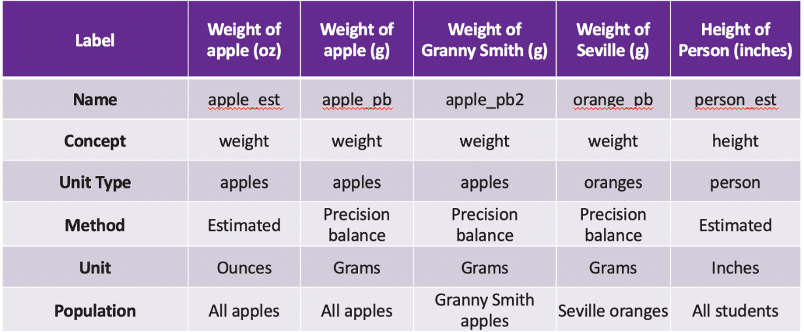 In the table above we have given each type of metadata in the document a label, for example Unit which is the measurement unit (e.g. ounces), or concept which is what we are measuring (e.g. weight). Doing this allows us to see clearly which variables are comparable or not, or which may need further transformation (e.g. converting from ounces into grams).
For example, if we want to compare the mean weights of two types of fruit, we might want to compare apples and oranges. The table will help us decide which apple variable to use.  Comparing the mean height of a person vs mean weight of a fruit might not make sense as they are not comparable Unit Types, but they both have the same Method of measurement (Estimated) so you might want to look at how good students are at estimating small objects, such as an apple, compared to large objects such as themselves.
Documenting the dimensions of the data in the form of structured metadata is helpful for a human to understand the variables, but it is vital for the metadata to be read by a computer which is not possible from the word document.